Steps to Creating a Valuable Connection With Your Child's Teacher
Building strong relationships with the staff of your child's school is probably one of the best things you can do for their educational experience. The unique understanding you have of your child can lessen any disadvantages that may come with a school's one-size-fits-all approach to teaching. 
If you are able to develop a strong rapport with your child's teacher you could boost their learning experience with the knowledge you have of your child. This is true for every child but is particularly true for kids with learning disabilities, mental health issues and any other unique concerns that could be factored into their learning experience. It's also extremely vital if your child is enrolled in an online school.
To help you establish this relationship with your child's teacher, here are some tips that may help.
Create goals with your kid's teacher
You and your child's teacher share the same goal, which is to offer your child the best educational experience possible. Narrow down this goal into long and short term goals that are specific to your child's strengths and weaknesses. Goals can include anything from helping your child improve their social relations with peers to increasing daily reading time.
Offer help
Try and make yourself available to assist with school events and activities. By involving yourself in the school community, you also form connections with your child's future teachers, school therapists, sports coaches and so on. When focusing on improving your relationship with your child's current teacher, consider helping with things like school trips, class birthdays or fundraisers.
Engage with your kid's teacher
Of course, it's not all sunshine and rainbows. It's important to dive into deeper topics with your child's teacher. Engage with them constructively about what you feel is and isn't working for your child and be open to hearing their feedback.
Don't expect the world from them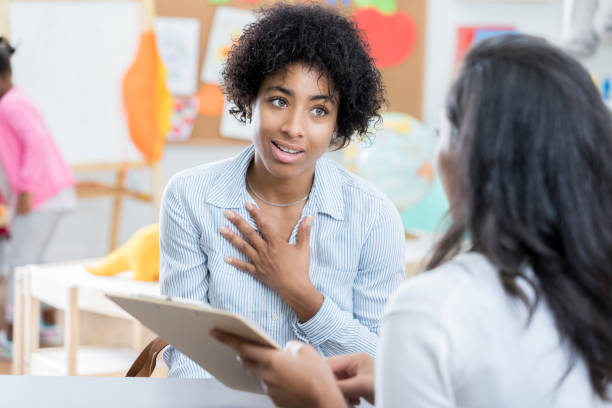 Teachers may try to adjust, enhance and develop some of their general teaching methods or their unique approaches to your child, but be aware of the things they can't help with as well. Like the average person, teachers have shortcomings as well and it's important that we know of them as we build these relationships. When you notice that a teacher is too busy or is simply unable to deal with a problem, look for solutions outside their classroom or outside the school. Explore learning benefits through tech, find an after school tutor or see if your child doesn't need help from a different professional like a therapist for example.
Show Respect 
This is one of the most important things that'll help you develop a strong bond with your child's teacher. Arriving at meetings on time, being aware of when and how they want to be reached and thanking them for their efforts to help you and your child are just some of the things you can do to show respect to them
Do you have any other useful tips for fellow parents? Share them in the comment section below.